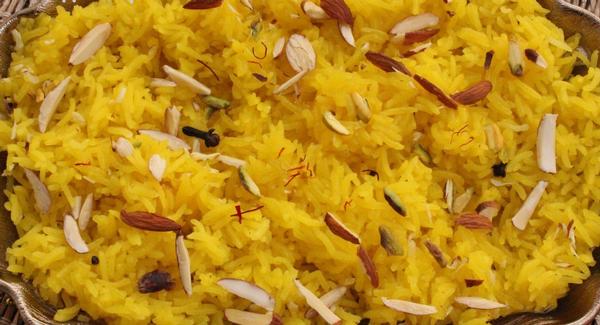 Yellow Sweet rice Vansant Panchmi
Tags:
Rice dishes,North Indian,Veggie
Ingredients:
Rice/Chawal  – 1 cup
Water – 2 cups
Ghee -  2 tablespoons
Sugar –  1 cup

Saffron/Kesar – few strands
Yellow food color – a few drops 
pistachios -  5 chopped
almonds – 5 -7 sliced
Cardamom Powder – 1 teaspoon (I used cardamom pods directly,one my preferred 
spice )
Cloves – 2 -3
Bay leaf – 1 , it is optional.

Description:
For Vasant/Basant Panchami:

* Wash & soak the rice for about 30 minutes or less. After that boil the rice in 1 cup water on low flame, do add cloves and cardamom to the water while you put the rice to boil. Now take another pan(for the sugar syrup) and add 1 cup water and 1 cup sugar, let it come to a boil, stir in between and when the entire sugar is nicely mixed in water, switch off the flame.

* On the other side, when the entire water is absorbed in the rice, you pour the already prepared sugar syrup along with few saffron strands and few drops of yellow colour. Let is cook on low flame untouched, just stir once while you pour in the sugar syrup. Occasionally keep checking if the sugar syrup is also fully absorbed in the rice.

* When you see that the rice had absorbed the entire liquid then your sweet yellow saffron rice is ready. Close the lid again and let them rest for few minutes in it.

* Take a small pan, heat ghee in it and add chopped nuts to it and stir fry little or till light brown. Pour them on the rice and stir gently.

* Serve them hot on the occasion of Vasant Panchami.