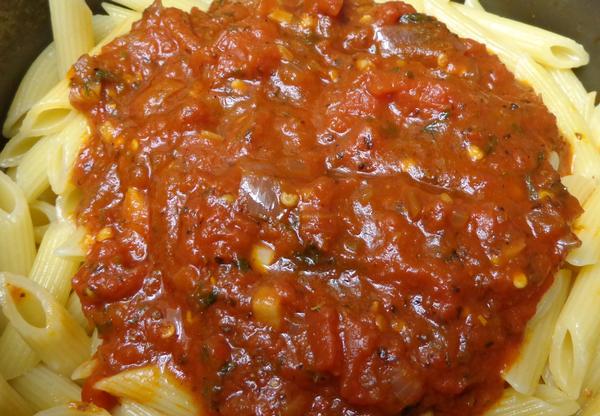 Penn Arrabiata
Submitted By:
Kalyani Akella
Tags:
Noodles-Pasta,Italian,Veggie
Ingredients:
2 cup - Penn Pasta or long pasta
1 cup - chopped Onions
1 cup - diced and peeled Tomatoes
1 tbsp minced garlic
1 tbsp - red wine
1 tbsp - red chilli flakes
1 tbsp - Italian Seasoning
1/2 tsp - pepper powder
2 tbsp - olive oil
1 tbsp - Tomato paste (You can use Hunts or make pure)
Salt to taste
1/2 cup - freshly chopped parsley
Description:
Take a cooking pot, boil water add pinch salt and cook pasta and drain out the water it usually takes 15 mins to cook completely. Set aside or cook sauce while pasta cooks.

Sauce:

1) Take a sauce pan, add oil and saute onions for 2 mins and add garlic and saute for about 3 mins.
2) Add dice tomatoes, paste mix well and saute for 5 mins cover with lid.
3) Add red wine, red chilli flakes, Italian seasoning, salt, pepper powder, chopped parsley mix well and cook over low heat uncovered for 20 mins stir occasionally.
4) Lastly add cooked pasta and serve hot.